Conservation International and Clear Channel bring the sounds of nature to the streets worldwide on the occasion of COP26 in Glasgow - also in Ireland.
From 31/10 to 12/11/2021 world leaders and delegates will meet in Glasgow to discuss solutions to the world's climate crisis. Conservation International today announces a new global OOH campaign with Clear Channel,
"Hear me while you can,"
to make sure nature is heard at COP26 and to inspire people around the world to understand what will be lost if we fail to protect nature.
Clear Channel is lending its support to the campaign by offering free advertising space on digital screens across it's markets, in Europe, the Americas and Asia. This global scale has the potential to reach millions of people worldwide. With the QR code, people can listen to some of nature's most majestic soundscapes, from the Amazon rainforest to South African savannah, from Southeast Asia mountains to the North Pacific.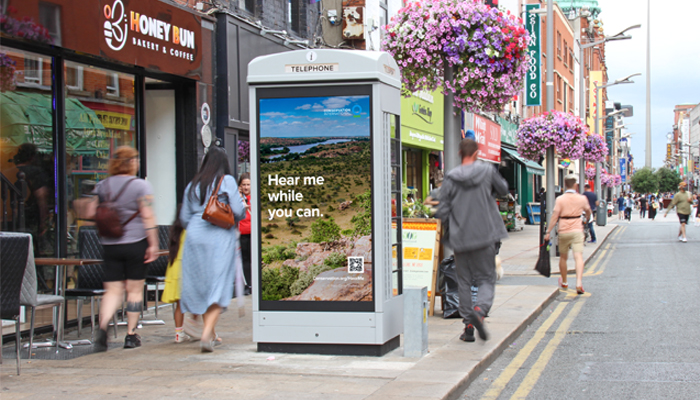 This global pro-bono out of home campaign builds on Clear Channel's longstanding commitment to using OOH's unique strengths, to give a voice to some of today's most pressing issues - in this case, climate change. In addition Clear Channel is a signatory to the UN Global Compact and has committed to drive sustainability across its business operations and to be Carbon Net Zero by 2050.
William Eccleshare, CEO of Clear Channel Outdoor Holdings, Inc. explains, "At Clear Channel, our ambition is to create a better world through the ways in which we use our out of home advertising platform. First, by using the power of our medium to facilitate debate on important issues that often don't get the attention they deserve. Second, we're making tangible changes to how we operate as a business to reduce our environmental impact."