There are over 1000 Adbox panels across Ireland, located outside multiples, symbols and independent newsagents. The uniquely patented Adbox 6 sheet product delivers powerful impact nationally at prime locations, targeting the audience at the point of purchase.
The advertising unit operates as a newspaper security unit which forms an integral part of the retail premises.
Features:

Delivers highly visible, close proximity impacts which achieve a strong on street presence.
Point of Purchase panels at multiples and symbol stores.
At 90% of Tesco stores.
Panels at Forecourts: Texaco, Topaz, Applegreen and Maxol garages in the Republic of Ireland.
Low cost per thousand
Add Impact with Adbox Extra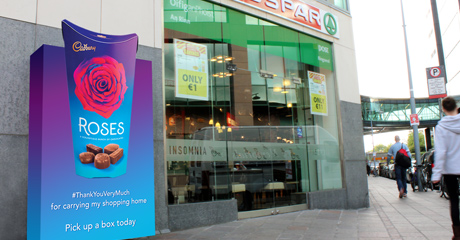 Adbox Extra allows advertisers to add impact to their Adbox campaign. As part of their campaign, 5 high impact special build Adbox covers are installed at prominent Dublin city centre symbol stores - Spar & Centra.
The media first format is extremely eye catching, providing unavoidable cut-through at the point of purchase.