To find out more about our range of products please contact a member of our
sales team

Adshel Plus has been developed in partnership with Eir and are part of the drive to upgrade on-street pay phone kiosks. Adshel Plus are free standing units with an Eir pay phone on one side and an illuminated, scrolling advertising panel on the reverse.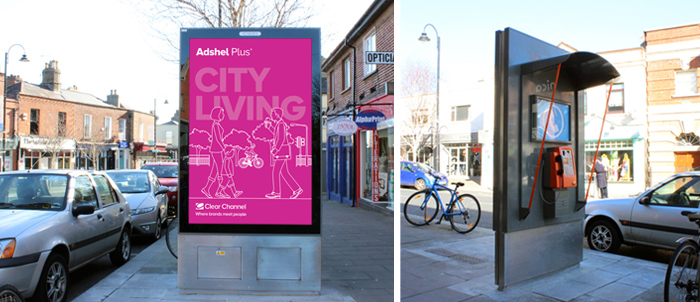 The Adshel Plus network is part of a programme to replace older phone kiosk structures with a more sleek design which is wheelchair accessible. The materials used are premium including a stainless steel structure and are an improvement to the public realm.
The Dublin panels are at key commuter locations delivering a much sought after affluent south Dublin commuting audience. The locations include:
Dundrum, Main Street
Blackrock, Main Street
Clonskeagh Road
Glenageary Road
Marine Road, Dun Laoghaire
Kilmacud Road @ Stillorgan Shopping Centre
Rochestown Avenue @ Killiney Shopping Centre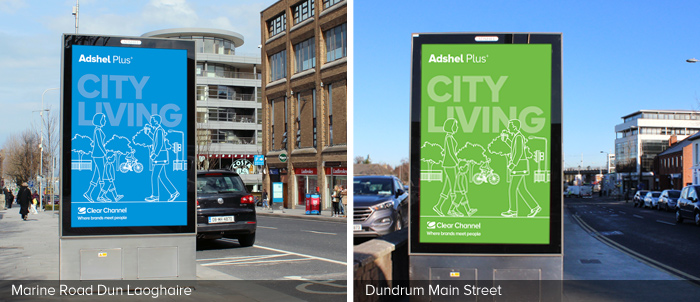 The Limerick Adshel Plus panels are in prime City Centre locations delivering the highly desirable Urban audience. The locations developed include;
Arthurs Quay
Mallow Street
Cecil Street
Gerald Griffen Street
Sarsfield Street
Athlunkard Steet
Clare Street (pending)
William Street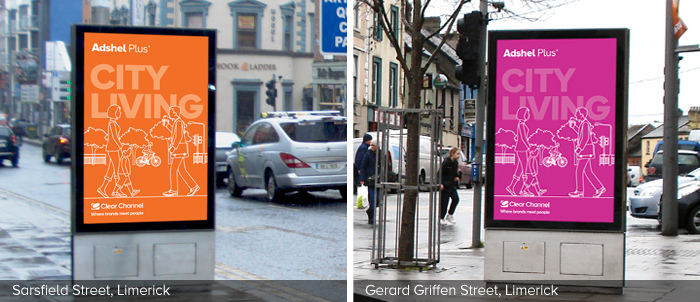 Regional Locations
There are also Adshel Plus panels in the centre of the commuter towns of Cavan, Gorey, Tullamore and Sligo.
Adshel Plus can be bought as a pack where advertisers feature on one panel of the scrolling unit across 12 locations (6 Dublin and 6 Limerick). There is also the option to take all 4 faces on the 12 locations for special scrolling innovations.