Adshel Live Malls is Clear Channel's leading digital out-of-home shopping centre network leading the way in the Irish out-of-home (OOH) market, located in 29 shopping centres nationwide.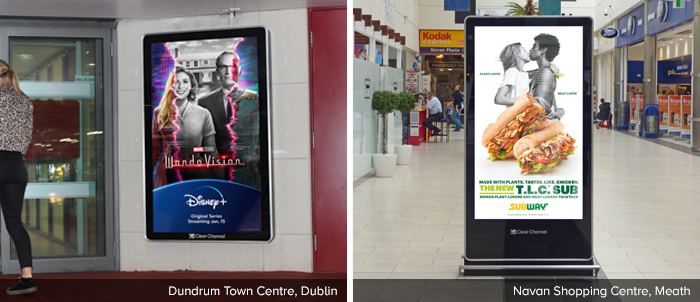 Adshel Live Malls is transforming point-of-sale advertising. With the ability to display fully animated content, Adshel Live Malls also allows advertisers to be fully flexible with their campaigns incorporating creative elements such as contextual relevance and dynamic triggers.
Digital OOH creates greater cut through and engages consumers. By enabling advertisers to change their messaging by the time of day, day of the week and by location, Digital OOH advertising gives our clients the opportunity to serve more relevant messages. Advertisers now have the capacity to activate sponsorships and promotions by changing messaging in the lead up to, during and after an event, amplifying the effectiveness of the campaign. Research from Kinetic, an OOH media agency, shows that Digital is twice as likely to be viewed and is viewed for 60% longer than a static print poster, leading to higher recall and greater purchase intent.